To cancel a booking, please access your reservation by clicking on "Manage my booking".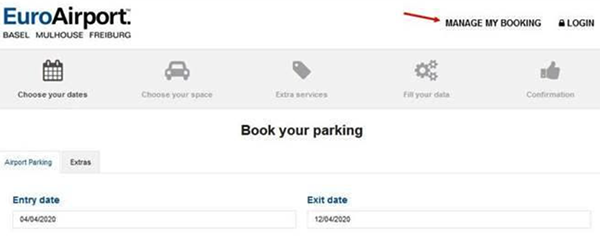 Fill in your e-mail address and your booking number starting with the letters "EAP", then click on "Find booking". By subsequently clicking on "Cancel", your booking will be cancelled, and the fee refunded to the bank card you used to make the booking.
You can cancel free of charge up to 48 hours before your reservation. Between 48 and 24 hours 50% of the reservation will be charged, below 24 hours the full amount. If you purchase the "Cancellation Option", you can cancel your reservation free of charge at any time before your reservations starts.
Parking in the Swiss sector: https://reservation-parking-ch.euroairport.com
Parking in the French sector: https://reservation-parking-fr.euroairport.com
A good tip: For specific inquiries about parking, please call the following numbers: +41 (0)61 325 79 09 or +33 (0)3 89 90 79 09.